Negotiations are all about limiting risk, especially in high-stakes harassment and abuse lawsuits. This dynamic makes First Court's risk-free approach the perfect forum to negotiate settlements in these cases.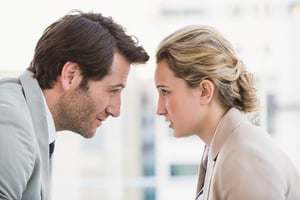 We recently mediated an extremely challenging sexual harassment case in Oklahoma. The plaintiff was represented by Chris Vaught of Armstrong & Vaught in Tulsa, OK, and the defense negotiator was a senior claim handler at a multinational insurance company.
Our experience in this matter highlighted two different ways that the safety of First Court's Online Dispute Resolution (ODR) service benefitted our negotiators:
Negotiating Safety
Everyone knows how much cost and delay can be avoided through proactive settlement discussions, but there is often a barrier of risk that causes parties to default to litigating. Parties who are too honest early on are penalized for that honesty… so parties posture and delay to make sure they are not taken advantage of. First Court's format allowed parties to engage in productive early settlement negotiations by removing that "honesty penalty". Here's what plaintiff counsel Chris Vaught had to say about his experience:
I went into the First Court process extremely pessimistic given that I had never mediated a case remotely, and was extremely reluctant to use the Testing process. At first it was somewhat jarring to engage in blind negotiations with my opponent. After using this process, I must admit that it makes me question the effectiveness of the traditional mediation paradigm where attorneys posture and argue over their case and then exchange numbers. First Court's approach permitted the parties to "test the waters" to see if our evaluations of the case were similar, without any risk.
Removing the risk from negotiations saved both parties a great deal of time - Chris estimated that mediating in this format saved plaintiff at least 100 hours of delay and unnecessary work. We also eliminated the need for a court sponsored settlement conference, saving resources for both parties AND the court.
Emotional Safety
In this sensitive case the female plaintiff was very fearful of going through litigation in such a personal, potentially embarrassing matter. In fact, mediation is sometimes inadvisable or impossible in sexual abuse or domestic violence cases, because it can require victims to come in physical proximity with the people they have accused. Chis had this to say on his client's experience in this case:
The First Court process removed the emotion that is typically present in sexual harassment cases. My client has a visceral reaction to (defendant), and was extremely fearful that she would be required to be in his presence. Mediating remotely from my office was MUCH more comfortable for her.
Mediating remotely helped to diffuse strong emotions, and protected the plaintiff from the exposure and embarrassment inherent in negotiating such a sensitive case in person.
First Court's mediation system removes risk and facilitates earlier, less stressful negotiations in many types of cases, and particularly in cases that are emotionally charged due to the facts or personalities involved. Savvy negotiators should consider how they can better serve their clients using this approach, and contact us to learn more or get your mediation scheduled.