Test. Retest. Win.
This is jury research designed for savvy clients. When your case evolves, your research evolves with it. As you get more facts, your understanding of the case improves, your arguments become sharper, and your evaluation becomes more objective.
How It Works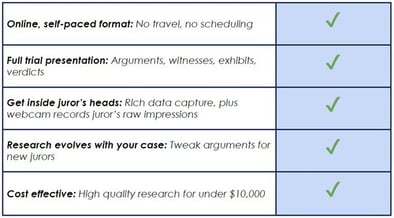 Jurors from your trial venue log in to our proprietary software when it is convenient for them. They see the story of your case and react to one screen at a time. They evaluate lawyers and witnesses on video. They respond to pictures, diagrams, animations, documents and bullet point summaries of testimony. You can even test expensive expert testimony ... before hiring a single expert!
Most interesting is that the webcam is on: You actually see the faces of your jurors and hear the emotion in their voices as they respond to the most critical issues in your case.
This is not yesterday's online survey! This is First Court's JuryReactions®—today's best online jury research service.
Features and Benefits of JuryReactions:
Super low cost: Develop high quality feedback on your case for under $10,000
Objective data in abundance: get objective feedback on fault, causation and damages
Fly with radar: Learn what jurors need to hear while discovery is still open
Test anticipated expert conclusions without hiring a single expert
Reveal what lay people really think of the key witnesses
Push the envelope: Test edgy arguments for both sides.
Unexpected turns in the case? Simply edit a few slides and re-test with fresh jurors.
Zero scheduling hassles: prepare your presentation and you view results at your convenience
Optional: Extremely effective tool at the negotiation table
Simple to initiate—just schedule a meeting using the link below, or give us a call to discuss the unique details of your case: (855) 908-9089.
"

JuryReactions is an incredibly useful tool to evaluate a lawsuit or prepare for trial. I would highly recommend using it for a wide variety of cases.

"
— Tom Conlin | Conlin Law Firm, LLC
Add Ons
Deliberation Option
One thing missing from pure online jury research is juror's reactions with each other: how would the individual juror's opinions play out in the deliberation room?
If deliberation dynamics are an important factor in your case, you can add an in-person deliberation.
The day after the jurors complete the self-paced online JuryReactions, First Court recruits six jurors to meet at a local video conferencing facility.
The jurors deliberate face-to-face across a table and reach an unanimous group verdict.
The deliberation is recorded for your review.
Voir Dire Option
Effective jury selection is a key part of any lawsuit that is going to trial, and a skill that today's litigators get to practice less than ever before.
For a small additional fee, an attorney can practice asking voir dire questions to the group of JuryReactions jurors by video conference. This practice can be invaluable in the courtroom during a civil trial.
The lawyer can select which jurors he or she would strike from the panel before the jurors complete the online JuryReactions. When your team get the results of the JuryReactions, you can see if you would have kept the"right" jurors on the panel for your case.